Back from KindieFest – Reflections on my journey to Brooklyn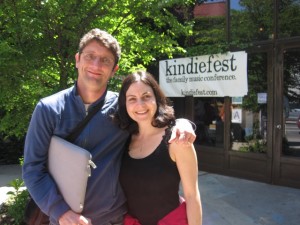 Well, it's been 2.5 weeks since my return and I'm still processing it all. I had a bad case of food poisoning just before I left, postponed my flight by a day, and managed to (just barely) make it through a turbulent flight and a chaotic cab ride in rush-hour traffic, from Newark Airport to Brooklyn.
Although I wasn't in the best shape, I managed to make some great connections, meet some wonderful people and see where I may and may not fit in in the Kindie music scene. (Kindie= Independent musicians making music for kids and families)
Here are a few incites from the trip:
– Sometimes things aren't what they seem. Keep an open mind and heart. Stay open to the actual experience vs. what you think the experience is "supposed to be."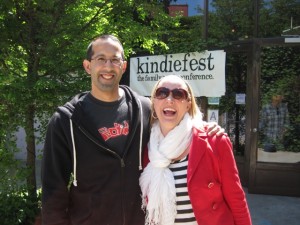 – Listen to your gut. Literally!!! My gut was saying "you might want to sit this one out…" but I went anyways. The good news is, the experience has reminded me of the importance of taking care of my body. It has also motivated me to start cooking. (For those of you who know me, this is a miracle!) I actually made a chicken soup from scratch a few days ago and I feel so much better! It's all about food made with love.
-If I ever do a big tour, I'm bringing a bus that doubles as a spa!!! Massage therapist, personal chef, steam room and meditation room all rolled into one… on wheels!
-The most important gift I received from going to Brooklyn, was re-connecting to my passion for creating music that is authentic, honest, joyful, and full of love & light. I was reminded of what is really important to me- making true and heart-felt connections with my audience.
Thank-you for reading my blog.
Jennifer xo