Jennifer Gasoi presents… Jennifer Gasoi! (How to produce a show without a production team)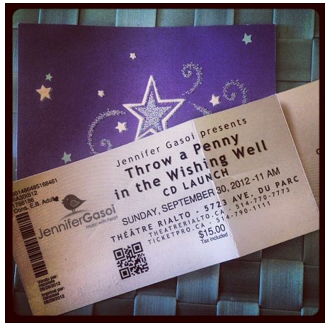 Close to 300 tickets sold, media coverage, CBC radio play, people buzzing about how excited their kids are to come see the show, and my parents getting ready to board a plane from Vancouver to be there routing me on…  this show is really happening!  I have fans coming  from Toronto , Ottawa, and even Kim, one of my best friends from the age of 2 is taking a flight from Rossland BC to cheer me on.  Words can't begin to describe how I'm feeling.
It was just a few months ago when I finally finished the CD that I realized I had another HUGE mountain to climb.  I had a show to produce!  So I had to ask the question… how do you produce a show without a production team?
I was one of those people that used to go to a show, enjoy it, and leave without thinking about all the hundreds of hours it took to prepare and make it run smoothly.  Figuring out pricing, how to arrange the seats, flow of lineups, designing posters, getting them printed, working out sound, lighting, placement of instrument on the stage, how to get the instruments on stage, lining up sponsorships, social media to promote, publicity, and the list goes on.  Even questions as small as, how am I going to get my lemon shaker into my hand for the next song?
After countless hours of meetings at the Rialto, with the sound and lighting crew, with my videographer, spending hours just sitting in the seats and getting into the headspace of parents and kids, with endless consultations with friends who might have some idea of how to do all the things I don't have a clue about… here I am.  10 days from the show and somehow, miraculously, everything is going smoothly!
In the past 2 years I have taken on many roles- singer, songwriter, producer, arranger, performer, grant writer, budget balancer, artistic director, musical director, and now the producer of my own show.  I now have a new respect for people who do all these behind the scene jobs.  Show biz is not as glamorous as it seems!
What is most important in this moment, is that I'm feeling energized, alive and can honestly say I'm living my dream.  Through all the ups and downs, the sadness, the fear, the excitement, the stress and anxiety, I have come through the other side feeling totally connected to my purpose and most importantly deeply connected to my family, friends and fans.
This CD and the launch show is about sharing the joy, love and gratitude that I feel.
Jennifer xo