Let go and Trust – Artwork for the New Album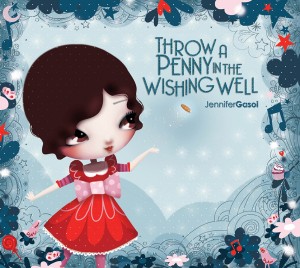 I remember when I recorded my first album in 2003, one of the most challenging parts of the project was figuring out the art, concept and graphic design.  This time around I was very clear that I wanted the album art to reflect the magic within the songs.  I also wanted a cover that appealed to both kids and adults, as I feel this album may go beyond the realm of children's music.
I took a lot of time to sit and reflect and decided that I wanted original art for the cover.  My friend Shauna Harper- (www.consciouslycreative.com) directed me to a website that represents all kinds of artists from all over the world.  www.lillarogers.com  Adolie Day (from France) was one of the artists featured on the website.  The second I saw her work, I knew that that she was the right fit for the project.  I absolutely loved her artwork and especially the figures of the little girls with big beautiful eyes.  There was a depth and beauty in her images that I resonated with.
I contacted her rep and we worked out a time-line and strategy for creating the album cover.  I took many weeks to compose a pdf (in french!) of what my vision was for the cover.  It was important that I was as specific as possible, yet allowing for artistic license on her part.  When I finally pressed "send" I let go and trusted that she would come back with something that I loved.
And she did!  She also drew the most beautiful wishing well that appears in the inside of the CD.  It inspires me to keep on dreaming!!!
May you keep on dreaming too!
Jennifer xo
PS. Tickets go on sale August 14th for the CD Launch Live Show at the Rialto Theatre in Montreal on September 30, 2012.