Can you and your kids use a peaceful breathing moment? In this episode of Jennifer's Musical Gems, we go to the forest with my little red bird, meditate with tibetan bells and listen to the sounds of nature. Even a few seconds of quiet can be so calming and centering for us all. Keep an eye out for the squirrel who seems to love the sound of the bells!
In this episode we explore curiosity through books! I present my own book – Blue and Red Make Purple – a Musical Journey with Jennifer Gasoi and play some of the music that accompanies the book. I also sing an original song called "I Love To Read" which reminds us how amazing books are to inspire and discover new ideas.
Today's gem is: Imagination!  In this episode I talk about the power of imagination and how it can spark ideas and creativity.  I also have a lot of fun with adding sound effects and using simple green screen effects to create flying hearts!  I learned "Lollipop Tree" by Burle Ives in Grade 3 with my music teacher.  I have never forgotten this song and am excited to share it with you!
Today's gem is: Winter! This episode is all about the beauty and fun of winter. I wrote a song called "Snowflakes and Cupcakes" that was inspired by living in Montreal for so many years!  It's not always easy to live in such a cold climate… but when we tap into the beauty of it, it really can be magical. And how doesn't love cupcakes and hot chocolate?  !!!!
This youtube video series created by Grammy® award-winning musician Jennifer Gasoi, offers music and mindfulness "gems" for kids, parents and anyone looking for a little sparkle in their day. The focus is on empowerment, inspiration, imagination and sparking our inner light. Enjoy!
Jennifer's Musical Gems –
Mindfulness Moments to Inspire
Coming Soon!
---
I think most of you have heard the news by now… Throw a Penny in the Wishing Well is the 2014 Grammy Award Winner for Best Children's Album! It's hard to believe it's only been 2 weeks since Cindy Lauper called my name and I went flying up to the stage to accept the award. My category was the fifth to be announced and it was such a relief to be right at the beginning of the telecast. Surrounded by family and friends in the Nokia Center, and with support from all over Canada and beyond, it was an exhilarating, other-worldly, perfect life moment!
After winning the Grammy I was whisked away into the Media Center where I was greeted with a standing ovation by an enthusiastic group of reporters. I entered room after room filled with press and media. In one room, I posed for 25 cameras all taking pictures at the same time. In another, I stood on a stage with a microphone, answering questions from a myriad of newspaper and radio reporters. I felt like a kid in a very flashy candy store!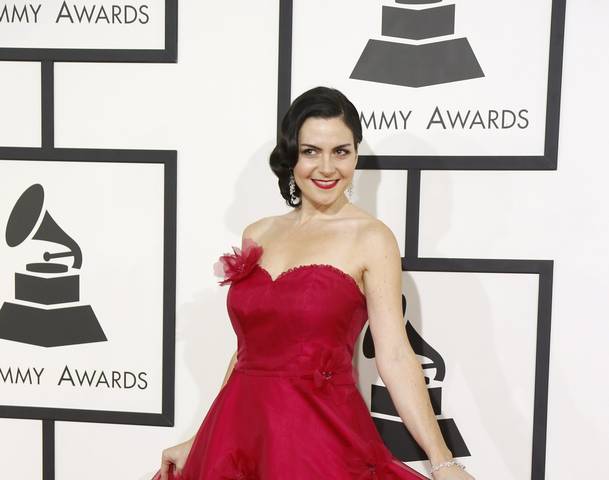 One of the highlights of the experience was receiving such enthusiastic support from Canada. I felt like an Olympian who had just won a gold medal! When I attended the Canadian Grammy Party in LA, I was I was honoured by Alan Thicke and the Consulate General of Canada.
After I won, I received all kinds of press from Canadian media from coast to coast. I was even welcomed at the airport by a camera crew from CTV Montreal! In fact, look out for me on Canada AM on CTV- Monday, February 17th. I will be performing one of the songs off my album!
Thank-you for all your good vibes, love and support. I am grateful for all my fans- big and little. I urge you all to "step out of the box and take a chance" in your lives. It doesn't have to be a HUGE step, just a little one. A series of small steps may eventually lead you to your biggest dreams. And as always, all we have is this moment. So let's enjoy it, be grateful for what we have, be kind to each other and keep dreaming!!!
Love,
Jennifer xo
p.s. To purchase my Grammy Winning CD, please visit www.jennifergasoi.com/store
It is with great excitement that I share the news that my album Throw a Penny in the Wishing Well has been nominated for a 2014 Grammy® Award for Best Children's Album!  Hard work, perseverance, vision, dedication, trust, patience and a little magic has led me to this moment.
From the moment I made the decision to become a musician many years ago, I also made the decision to realize my potential and follow my heart always.  This has not always been easy.  There have been many challenges, difficult days, months and even years along the journey.  But through it all, I always felt a deep inner calling and drive to keep manifesting my hearts desires.  The songs in Throw a Penny in the Wishing Wellurge us to follow our heart, trust in ourselves and our dreams, and know that anything is possible.
I am savoring every delicious moment of this ride.  Thank-you to those who are reading this, who have supported me, bought my albums, have come to my shows and believed in me the whole way!  I am blessed and grateful.
Now I'm off to do interviews, TV appearances, answer emails, check twitter and facebook messages and send off CD's.  You can watch my recent TV appearance on CBC Montreal by clicking here.  My feature appears at 23:55.  Or click here to read an article in the Montreal Gazette.
You can buy my music at CDBABY or MAPLEMUSIC.COM
Wishing you all a peaceful December and a heart full of love.
Feel free to send golden vibes my way!
Love,
Jennifer xo
I have submitted a hockey song for CBC's Songquest contest and I need your help!  I just found out I'm close to the top 50 out of 1000's of entries so a few extra votes could make the difference.  Voting is easy. Simply click the "vote for this artist" icon on the page.  The song is called "Game in Canada's Heart."  Listens and likes also count for votes and you can vote daily until December 11th. Thank-you!
On Tuesday I had the privilege of being a key note speaker at the Woman's Arts Society of Montreal's 120th Anniversary lunch.  The topic was "enrich, enlighten and inspire."  I loved speaking and sharing my experience and inspiration with the crowd.  I hope to do more of it in the future.  Here I am with the president of the society, Cheryl Berganza. She's an incredible artist and an inspiring woman.
Please keep my music in mind for the holidays.  It's a great gift for the little ones in your life.  Click here to buy!
I wish you all peace, love and light during this holiday season.
Love,
Jennifer xo
Here we are… the seasons are changing and life is changing so fast.  I feel like I blink and I am in a totally new phase of my life.  The good news is we are always here, now. No matter what is going on in our lives, all we really ever have is this moment.  Let's tap into the gifts of this moment no matter how big or small they may be.
I have some exciting news to share…  My album Throw a Penny in the Wishing Well is officially on the ballot for the 2014 Grammy Awards!  This means that I am in the running for a nomination for Best Children's Album!
I have spent the past few months connecting with musicians from all over the world, listening to their music and sharing mine.  Since the next round is based on peer-voting (I am now a voting member of NARAS, the Recording Academy) I have been working hard to make sure other voting members listen to my music.  The feedback I've received from fellow members has been incredible.  I am so inspired by the music I've been hearing and by the connections I've made throughout this process.  I will find out if I receive a nomination in December.  In the meantime, feel free to send nomination vibes my way.  🙂
In other news, I will be performing my annual Holiday Show at the Jewish Public Library in Montreal, on Sunday November 24th at 11 a.m.  (5151 Rue Cote St. Catherine).  I will be joined by my wonderful and talented band.  For tickets call:  514-345-2627 ext. 3398.Click here for more info.
If you live in Vancouver or in the vicinity, mark your calendars for Saturday April 12, 2014.   I will be performing 2 family concerts for the Children's Hearing and Speech Centre of BC.  Click here for more info.
Wishing you all a graceful transition into winter.   Thanks for reading.
Jennifer xo